Release
Introducing AudiQR - Instant Payment Confirmation
Introducing AudiQR™, a QR payment confirmation device engineered in Nepal. Get instant voice confirmation, maximum security, and device management system.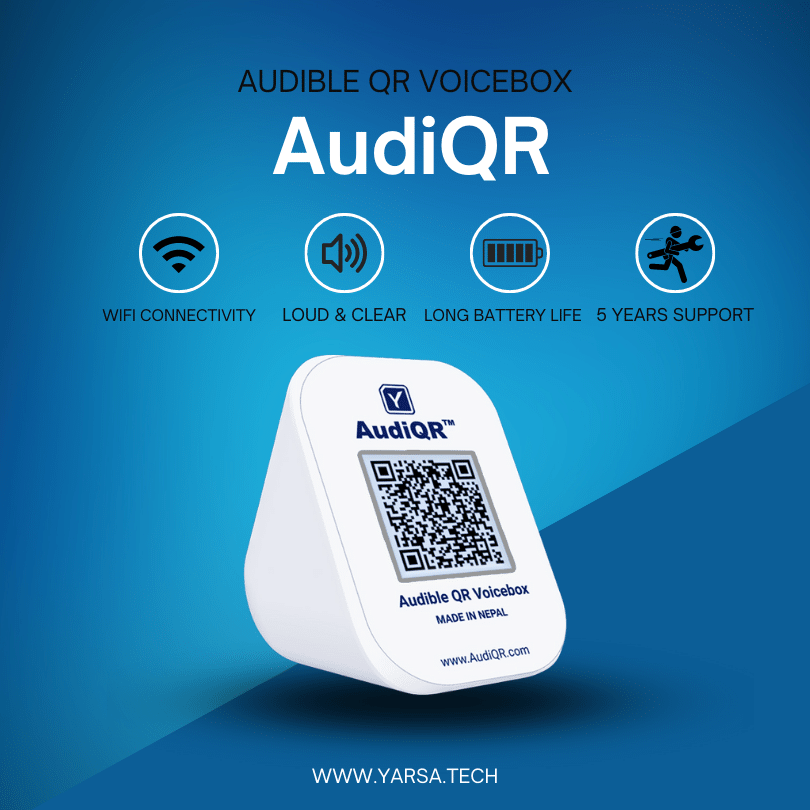 A sound box that speaks your QR payments. Listen to your QR payments instantly with AudiQR™.
AudiQR™ is designed and engineered in Nepal by a team of the finest mechanical and electronic engineers at Yarsa Tech. Introducing instant payment confirmation through voice for QR Code transactions for your business transactions.
Product Description
Meet AudiQR, a new way to confirm your QR Code Payments. Designed in Nepal, AudiQR speaks to you instantly when your payment is complete. It's not just smart; it's secure, easy to use, and can be customized to fit your needs.
Secure and Reliable
Unlike other devices, AudiQR is designed and engineered in Nepal to be secure and reliable for years to come.
Customizable Features
AudiQR is fully customizable. Easily match your brand identity, or even order a custom feature to meed your needs.
Loud and Clear Audio
AudiQR produces loud and clear audio recorded by voice artists for clarity in a noisy environment.
Reliable Battery Backup
Long-lasting 2,000 - 2,200mAh Li-ion battery provides backup for hours and hundreds of transactions.
Wi-fi + GPRS Connection
AudiQR comes in GSM, Wi-fi and hybrid variant. Customize the device to fit your needs.
Easy Onboarding
Simple, cloud-based merchant self-onboarding system that needs little to no prior knowledge or training.
A Complete Solution
AudiQR comes with a lot of security and convenience features that can be customized to fit your business needs. Paired with long-term support and maintenance warranty, you are in good hands.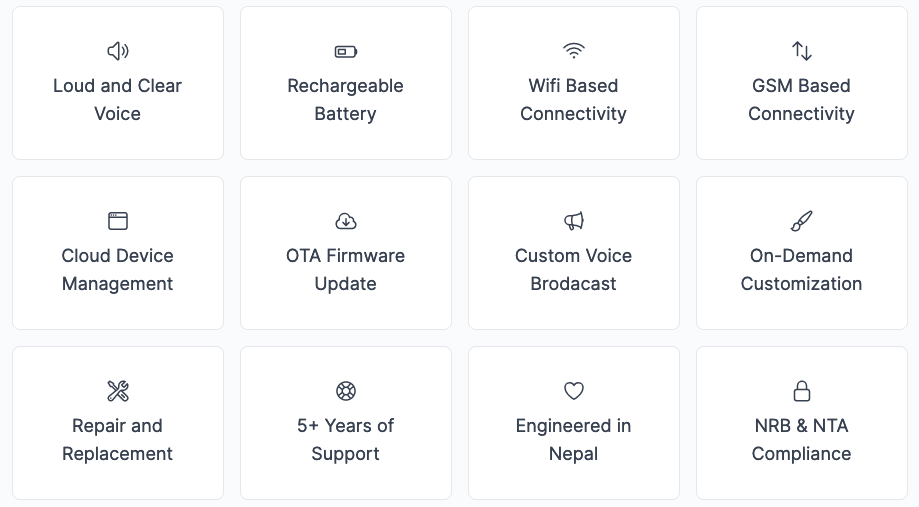 Simple & Flexible Pricing
Pricing is based on the device model, available features and Minimum Order Quantity.
The listed price includes the cost of the device, initial setup charge, access to the cloud dashboard, on-site support and free software update for 5 years.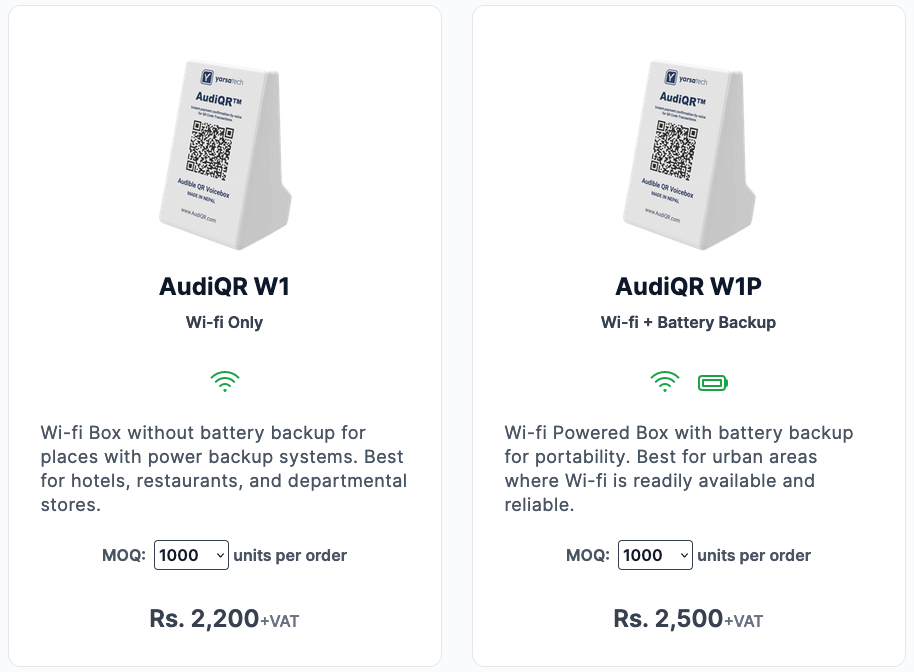 View all AudiQR products and pricing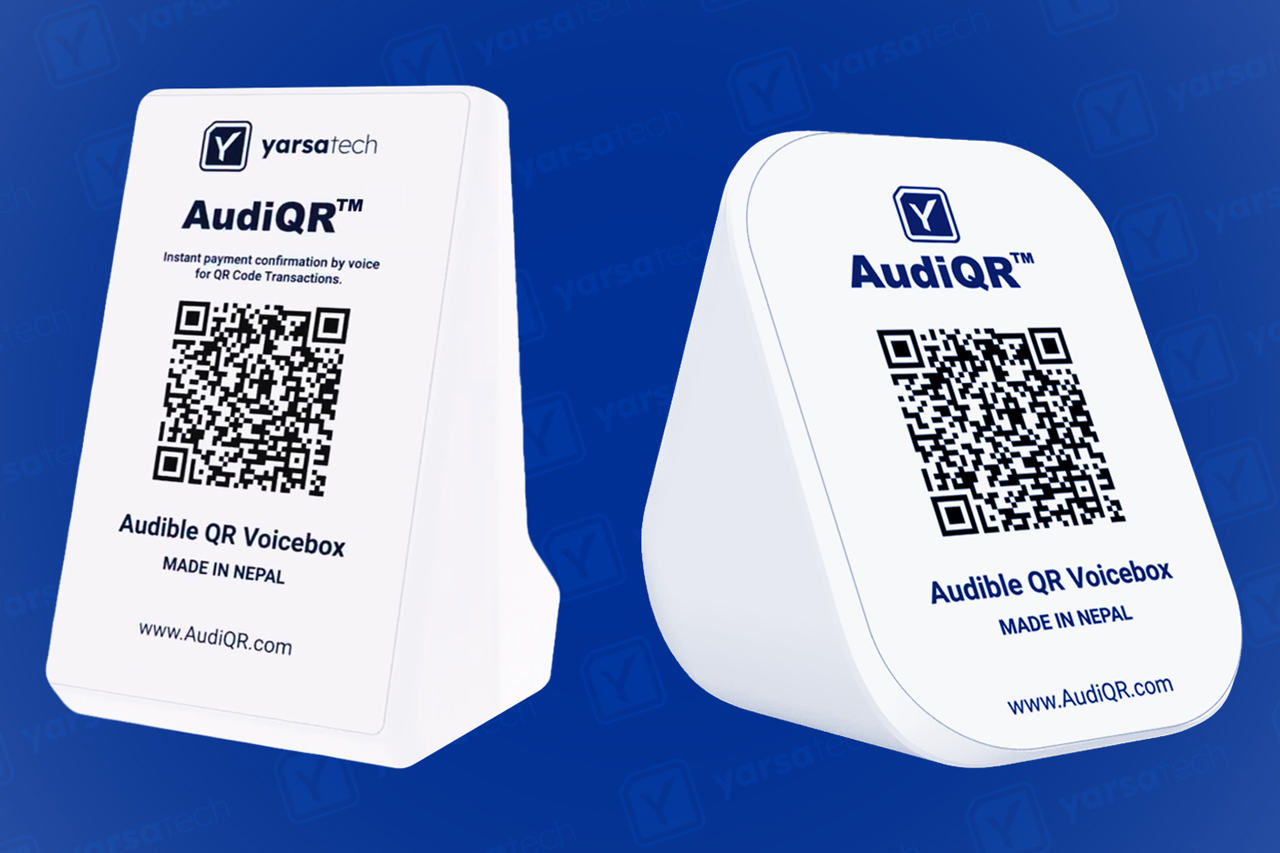 Request Free Demo
1 year Replacement warranty + 2 years Free Repairs
AudiQR comes with a 1-year replacement warranty, 2 years of free repairs provided there are no visible physical damages and 5+ years of support for device software.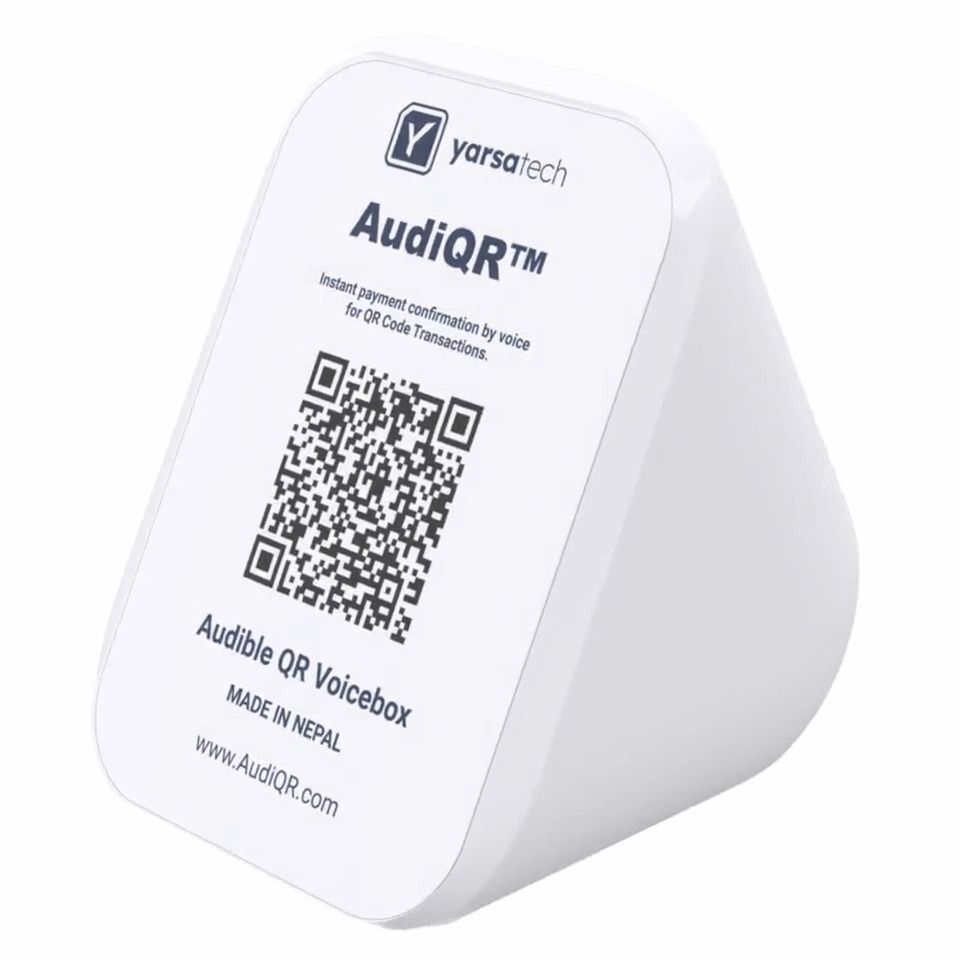 AudiQR- Audible QR Voicebox
AudiQR is a remarkable QR Payment companion born in Nepal. Experience the joy of hearing your payment confirmations, even in noisy environments. All-day battery life, a secure online dashboard for effortless control that sets it apart from being just a mere product- designed especially for you.
Request Free Demo
Contact Offices


🏢 Pokhara Office Address: Pokhara 29, Lekhnath 33700
🏢 Kathmandu Office Address: Ichunadi Marga 4, Kathmandu 44600
Phone: +977-9800959042
Email: contact@audiqr.com
Follow us on LinkedIn or Facebook

---